Introduction
Over the last 2 years, online shopping has been booming because of the Covid pandemic. Will eCommerce still be booming that way? The answer is still yes! Are you ready to handle a great flow of traffic of your online stores this Black Friday 2022? Are your stores robust enough to do so? This BFCM season, let LitExtension guide you through an ultimate Black Friday eCommerce strategy for your stores to survive.
Let's discover our ultimate tips to:
---
18 Black Friday Strategies for eCommerce Business 2022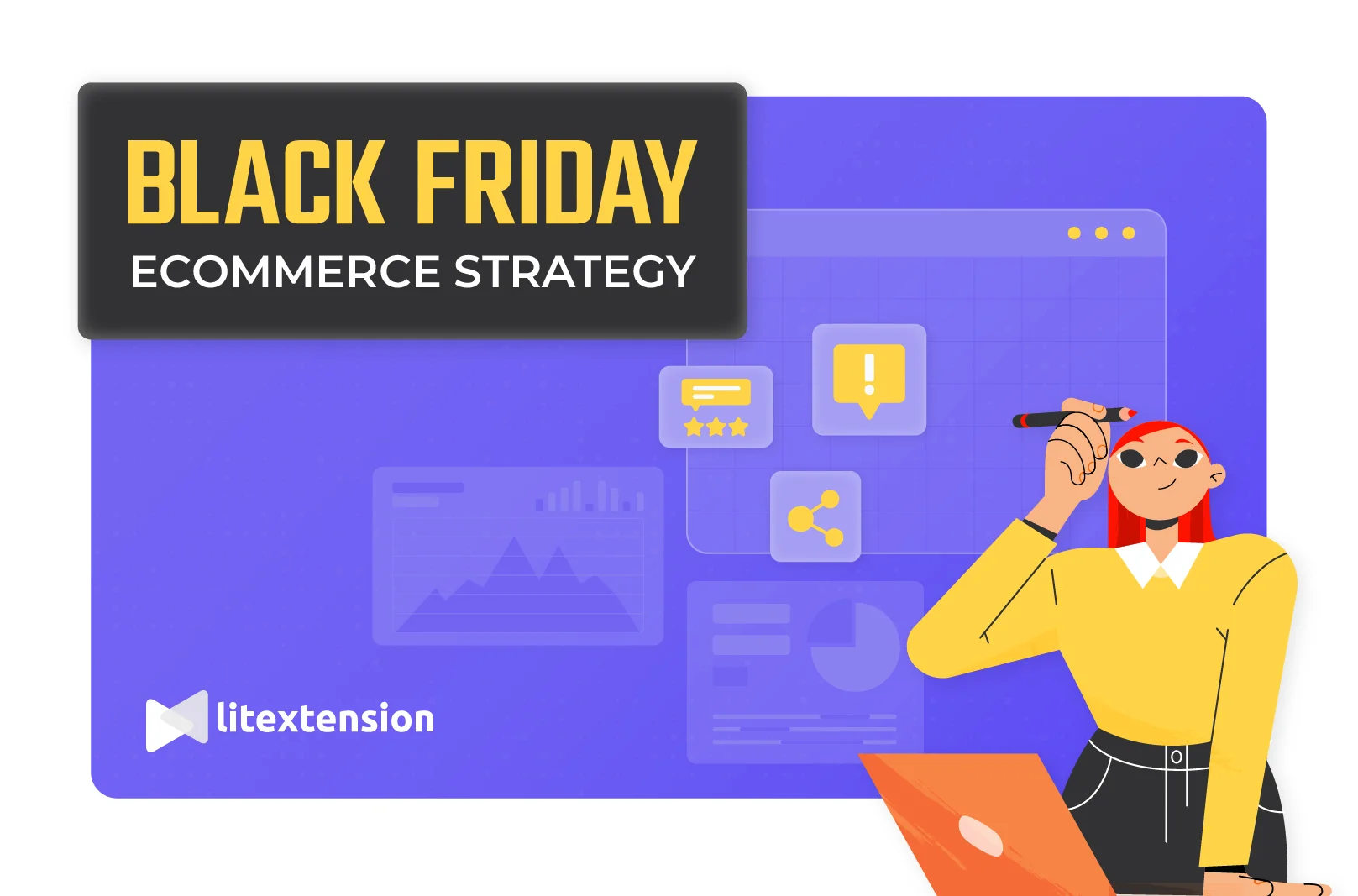 #1 Optimize website for mobile
According to eMarketer, smartphone-generated mobile sales will reach $432.24 billion in 2022. There is a high demand for mobile online shopping, which triggers an urgent need for any e-merchant to further optimize their website for mobile phones.
How can you make your online store more mobile-friendly? In this Black Friday eCommerce strategy article, we suggest a few steps for you to take:
Test your mobile rich result

 

by using

 

Google Mobile-Friendly Test
Select responsive themes

 

& plugins

 

tailored to your mobile website
Customize pop-ups for mobile
Choose a reliable web hosting service
#2 Improve website navigation
Website navigation is a collection of user interface components that assist in finding content and features on a website. It enables your visitors to easily access and grasp promotions as well as various offers that may be available on your website.
To logically locate products, good eCommerce website navigation is required. Below are some best practices for improving your Black Friday eCommerce homepage. As long as you remember these 4 points, you'll be fine in this season:
Include only links & the most important data-based information

 

in Header
Organize categorization + subcategories

 

in a proper way
List a product or subcategory under several parent categories

 

if it is pertinent for clarity and usability
Make use of Mega menus

 

for large inventories
#3 Create Black Friday eCommerce homepage
Black Friday and Cyber Monday are the most important shopping days of the year. And, let's "get the most out of your homepage" to get the most out of BFCM.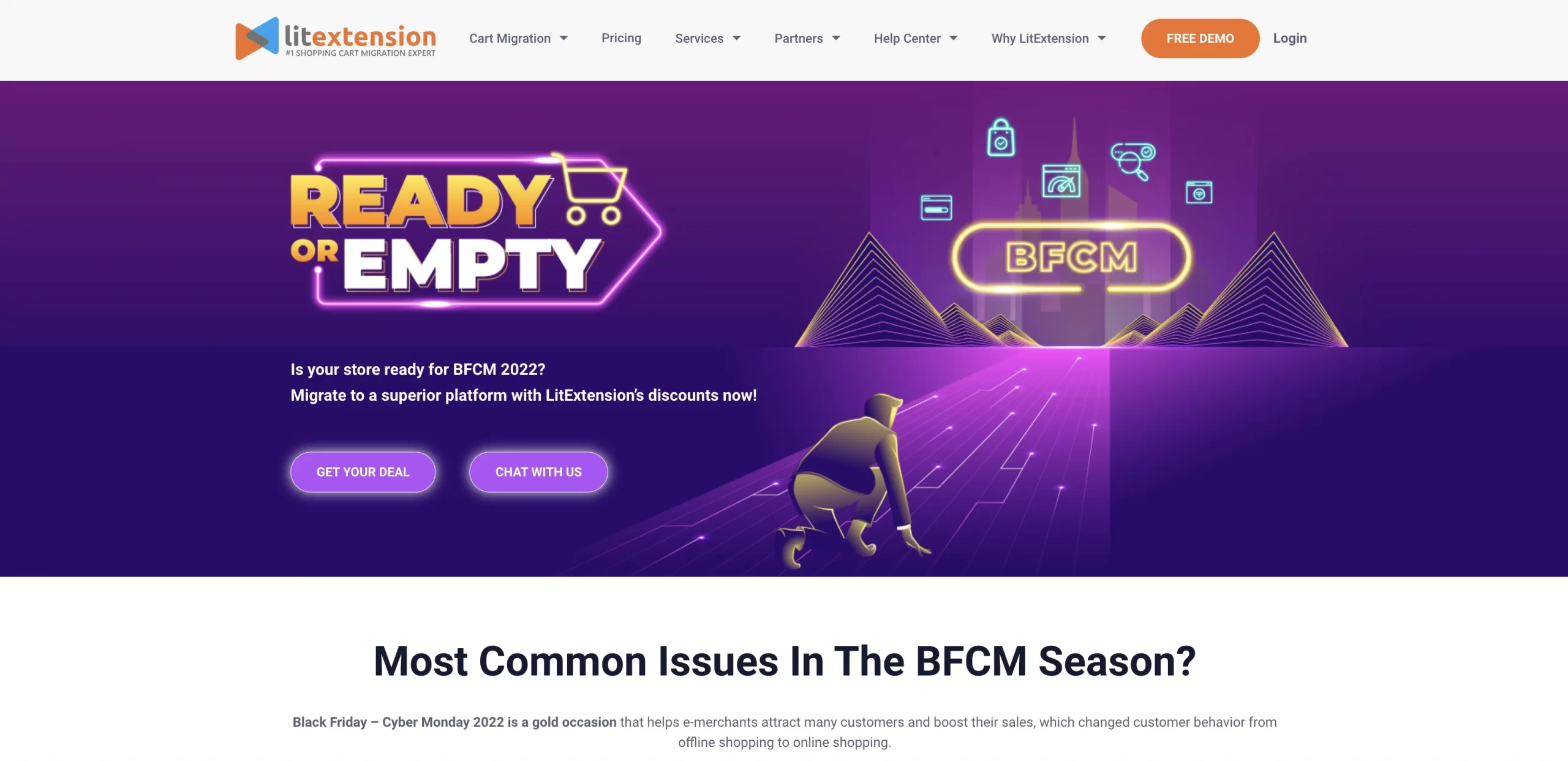 Since the success of BFCM promotion initiatives depends on solid research and carefully thought-out marketing strategies, you should include a Black Friday homepage in your overall marketing plan. It goes without saying that, among other things, you will need to prepare your website for Black Friday so that shoppers have a clear idea of what you will offer them.
You can always check out our webinar on how to convert BFCM Landing Page to make the most of your sites. Don't miss the chance to maximize profit with your well-planned activities and appealing BFCM landing page! These are some evergreen Black Friday deals for you this season:
Coupons. Create some specialized coupons tailored only for the BFCM season. Name your coupons in a memorable and humorous way so that your customers will come back and apply it at the checkout.
Discounts. Offer generous and appealing discounts (normally above 50%). Display your offers attractively so that your customers can see them.
Hourly or Daily Offers. Create a sense of uniqueness and urgency. Show your customers that your coupons or discounts will be in limited time that will trigger them to make purchases.
#4 Optimize product pages for Black Friday
Next on our Black Friday eCommerce strategy is to tailor product pages for Black Friday Cyber Monday.
Use high quality images
In this Black Friday eCommerce strategy, we will focus more on selling physical goods. If you sell books or clothing, a single image of your product will not give the buyer an idea of what it looks like. So adding images from various angles is fantastic. Even better if you include how-to videos for the product.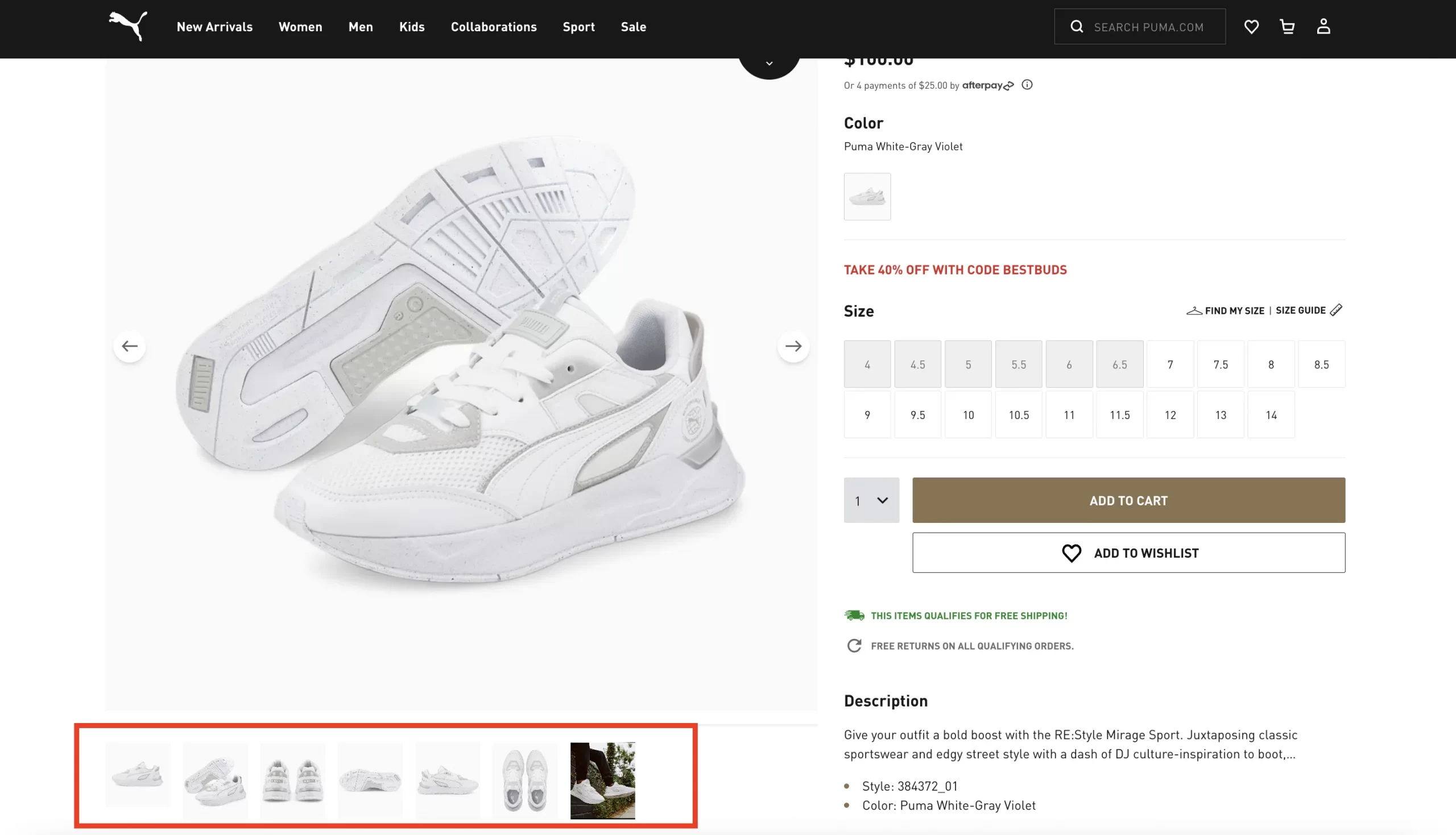 The next idea is to not underestimate the significance of image quality. If your product image is blurry or unclear, your customers will question the quality of your product, whether it belongs to your brand or not, or whether you take it somewhere else. That truly affects your brand image also.
Deliver clear product descriptions
Why is a detailed product description necessary? A great product or service description is critical because it quickly answers the most pressing questions about what you sell.
Product descriptions assist customers in making educated purchasing decisions. They also make your website appear more professional, as it would be absurd to simply list products and their prices without informing the customer about them.
Add product attributes & variations
To begin, attributes are essentially configurable properties of a variable product, such as color, size, and SKU, that enable you to add a large number of product variations.
These functions are available from almost all eCommerce platform providers. For example, if you're using WooCommerce, you can have two types of attributes. Custom product attributes are created for a single product only. The attributes that can be applied to multiple products are known as global product attributes. These can both be used to filter products on the shop page.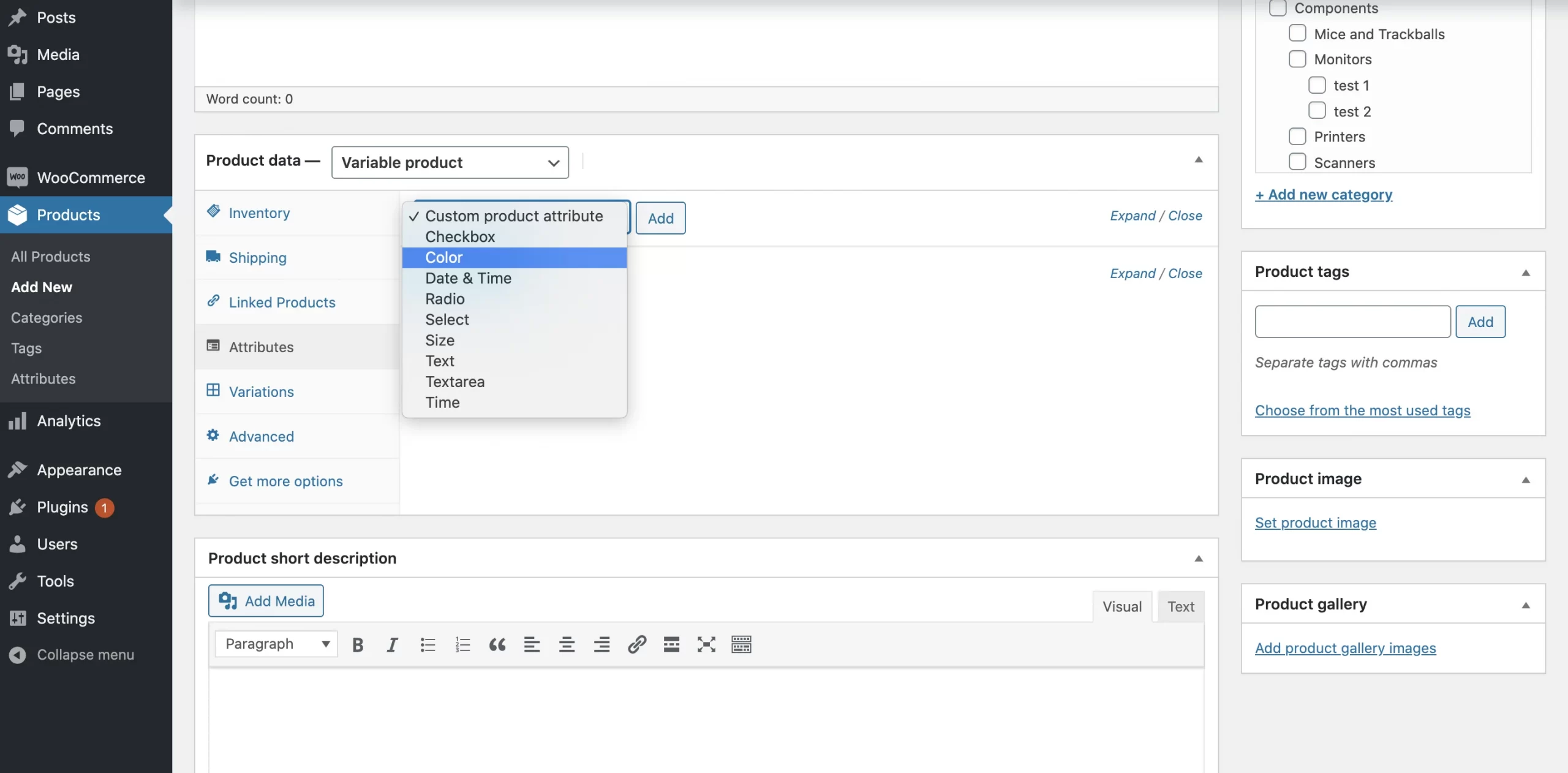 Create FAQs sections
You're going to offer your visitors a slew of deals and incentives on Black Friday. However, a vast amount of alluring offers doesn't mean you can convert. Your customers are very likely to abandon your site if they can take advantage of all of our offers.
So, put yourself in the customers' shoes, consider what they might be concerned about and curious about your products and promotions, then create a list of frequently asked questions (FAQs). Your customers can thus get all the information they need instead of asking elsewhere or leaving your sites without taking any action.
#5 Improve site performance
Compress & optimize product images
Image optimization is the act of reducing the file size of your images as much as possible without sacrificing quality, in order to keep your page load times as low as possible. It also has to do with image SEO.
Image optimization entails making sure your media look great on both desktop and mobile devices. And that they do not interfere with web performance and page speed.
As mentioned above, we've said that you should use high quality images. However, high-resolution ones may come along with the heaviness in sizes. In our Black Friday eCommerce strategy, we suggest these following things for you to optimize product images:
Include focus keyword on alt text & title
Optimize image size
Select right image format
Examine images on each product page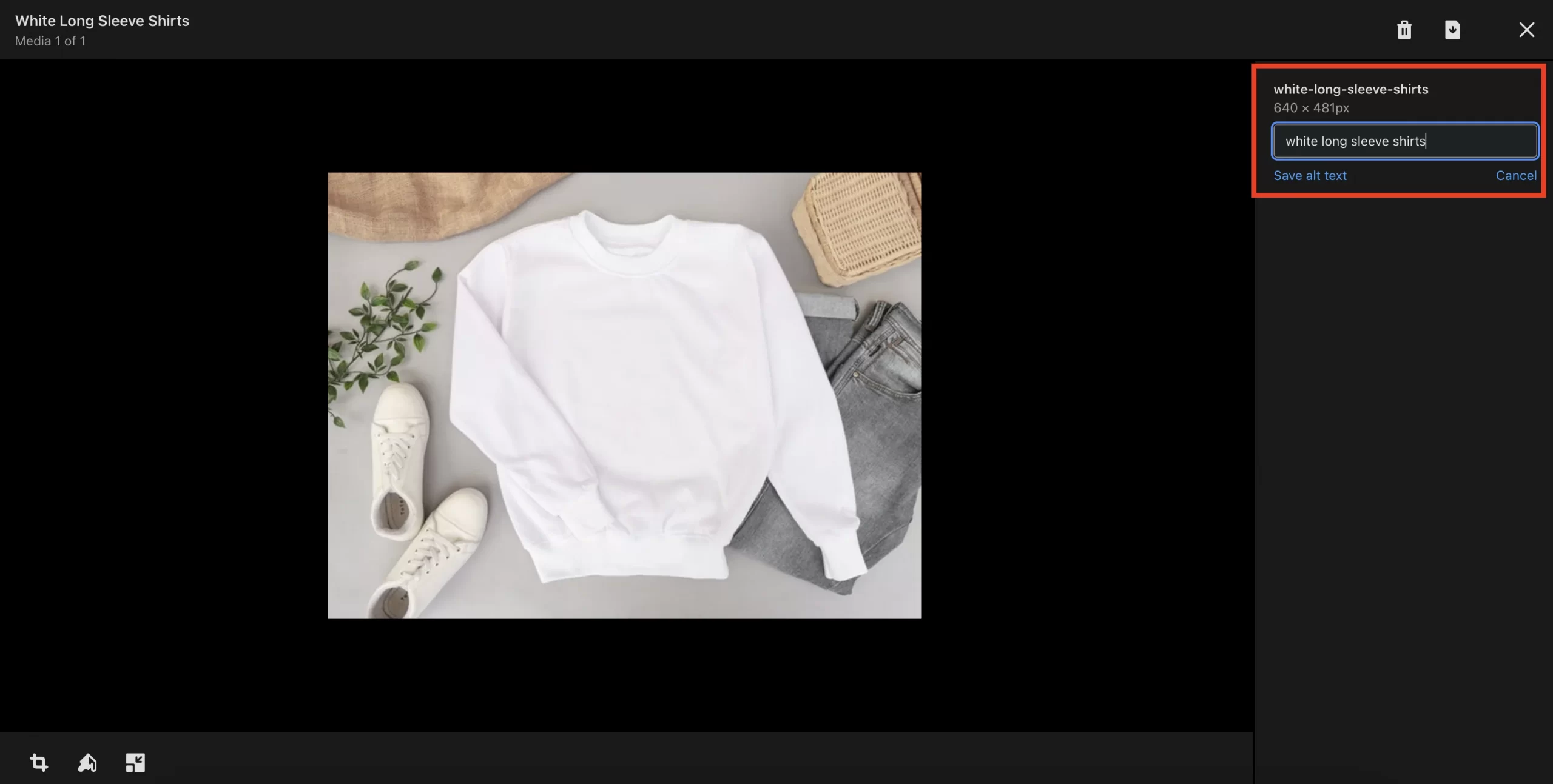 Remove unnecessary plugins & Javascript
JavaScript files are render-blocking by default because they prevent the browser from dealing with other page load tasks, delaying your page's. Reducing unused JavaScript can improve render-blocking behavior, speed up page load times, and enhance user experience.
As for this Black Friday eCommerce strategy article, we suggest that you can see how your site performs with GTmetrix audit.

Move to a more robust eCommerce platform
Have you tried all the aforementioned stuff yet your site couldn't be faster? Migrating to another more robust eCommerce platform will be your optimal choice!
Cart migration is a way to boost the functionality that allows your customers to enjoy their shopping experience in your store. The advantages will be undeniable. Both your business and your website will benefit:
Faster site loading speed
More powerful eCommerce features
Better UI/UX
Finer site navigation
#6 Add live chat to your online store
Why include a live chat feature? Live chat puts customers at ease!
You give your customers a way to contact you instantly whenever they have problems that they can't solve. This is much more satisfying than sending an email to a support team as with email, your customers will  never know when you'll get a response.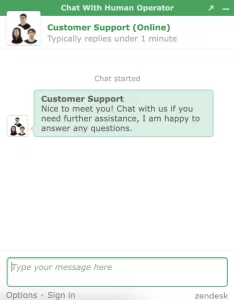 Live chat is the most satisfying way for 73% of customers to communicate with a company. So, this Black Friday season, don't miss out on any instant sales by skipping the live chat. Your customers require immediate assistance if they encounter any difficulties!
#7 Use website pop ups
Coming up next on our Black Friday ideas for eCommerce is pop-up. A pop-up is a small window that appears while you are browsing website. They are primarily used by marketers for advertising and lead generation. What's the benefits of integrating pop-ups into your website?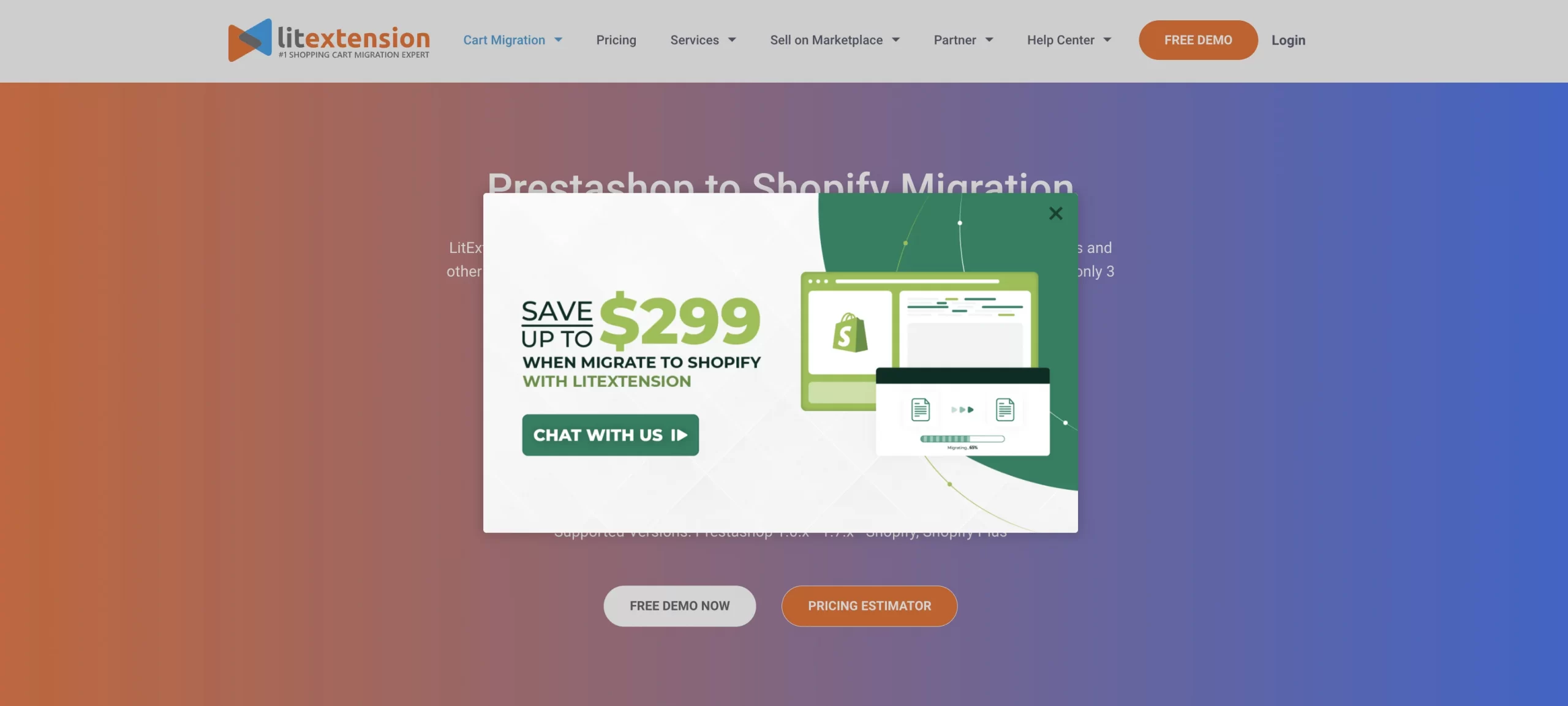 Pop-ups will pique people's interest. Once your customers search Black Friday deals online on Google or any other search engines and visit your page, the pop-up will act as a call to action (CTA). Hijacking the entire screen isn't subtle, but it gets noticed. Your visitors concentrate on one message over so many different messages on your site, so that they tend to pay a visit to the link on the popup for further actions (like perform purchases!)
#8 Simplify checkout experience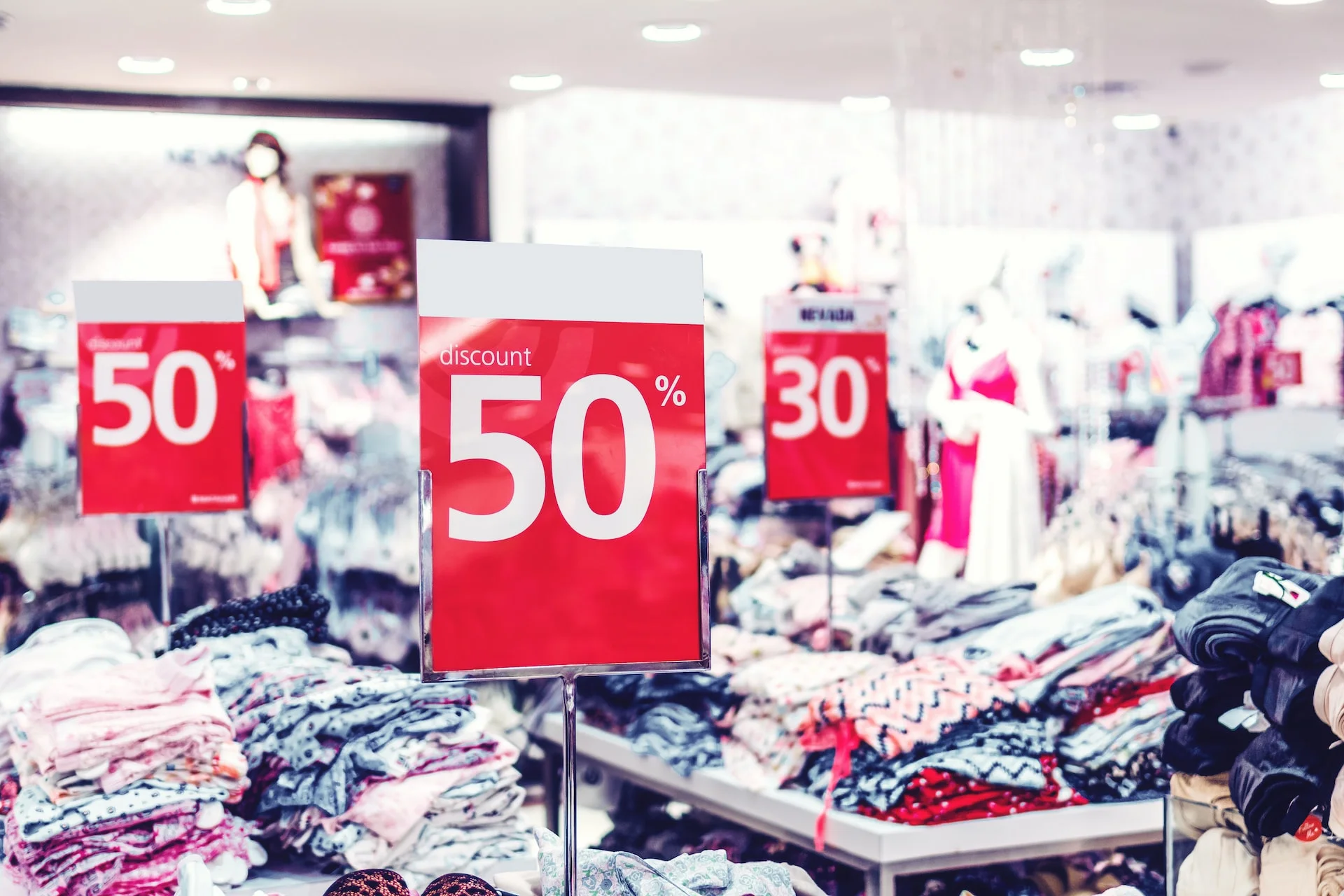 Offer transparent coupons & codes
During any sale season, businesses frequently offer a bundle of codes and discounts. Have you considered how customers will use it at the checkout? The coupons and codes should be valid, clear, and simple to use. Your customers may become frustrated and leave your site at the final stage if they are unable to enter the discount code.
Here are some examples of Black Friday incentives eCommerce that you can use during this BFCM 2022:
Coupons for percentage discounts
Coupon for free shipping
Purchase incentives
Loyalty-based promotional codes
Enable Google Autofill Checkout Address
The address autocomplete feature speeds up the online ordering and checkout process by reducing keystrokes and the possibility of typographical errors in billing information. This ensures that orders are delivered to the correct addresses every time.
Address autofill on checkout assists your customers in quickly filling out the address from the suggestions in the billing and shipping sections of the checkout page. If you use Shopify, you can learn more about Google Autocomplete for Shopify in this article!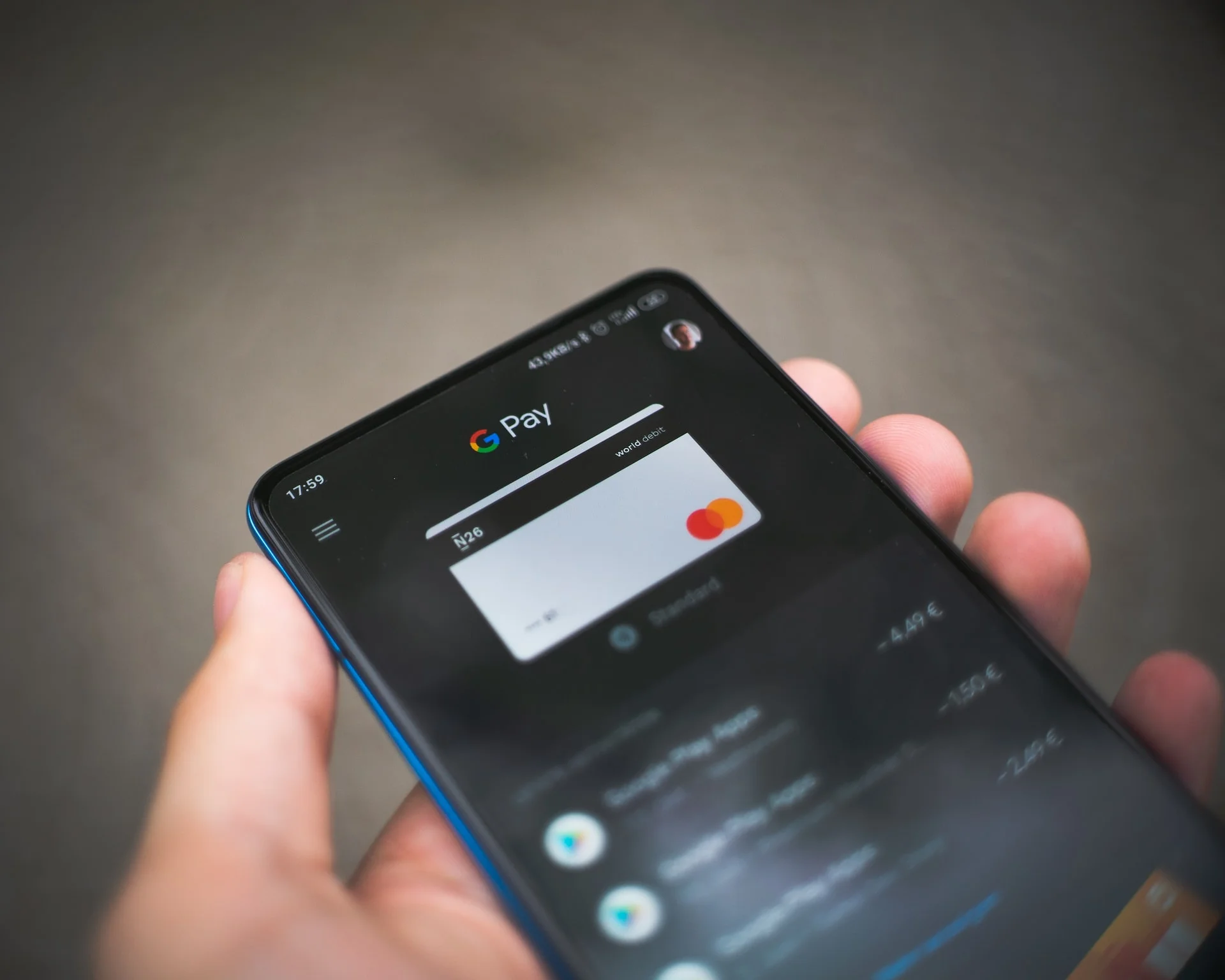 #9 Optimize payment process
Using multiple payment gateways enables you to accept a wide range of payment methods while allowing customers to pay in their preferred currency. It makes your company more adaptable and scalable. It is also extremely beneficial to growing businesses that are expanding globally.
As you're selling via eCommerce sites, eCommerce website providers frequently provide multiple payment gateways to satisfy your customers' needs at the checkout.
#10 Adopt buy now, pay later (BNPL)
Online purchases using "Buy Now Pay Later" services are increasing at 39% per year in the UK. Isn't that enormous? With this payment option integrated into your eCommerce website, you give your customers the option to buy the product now and pay for it later in installments.
Even the eCommerce industry's behemoths, such as Flipkart and Amazon, have already adopted the pay later policy to boost their profits. Some additional benefits of the Pay Later option include:
High conversion rate.You can retain these customers by offering them affordability and the convenience of making payments in installments through the Pay Later option on your eCommerce website.
Increased order value. You can sell customers high-value products and allow them to pay in installments. This allows your company to place larger orders and customers to buy from brands without having to make large payments all at once.
Purchasing flexibility. Customers are happier when they have more flexibility in their purchasing decisions.
#11 Set up Upsell & Cross-sell
Upselling is a common sales technique in which a seller encourages a customer to buy a more expensive product or upgrade to a premium version of the item in question.
Meanwhile, the practice of selling additional products or services to an existing customer is known as cross-selling. This is a marketing strategy in which customers are recommended products and services.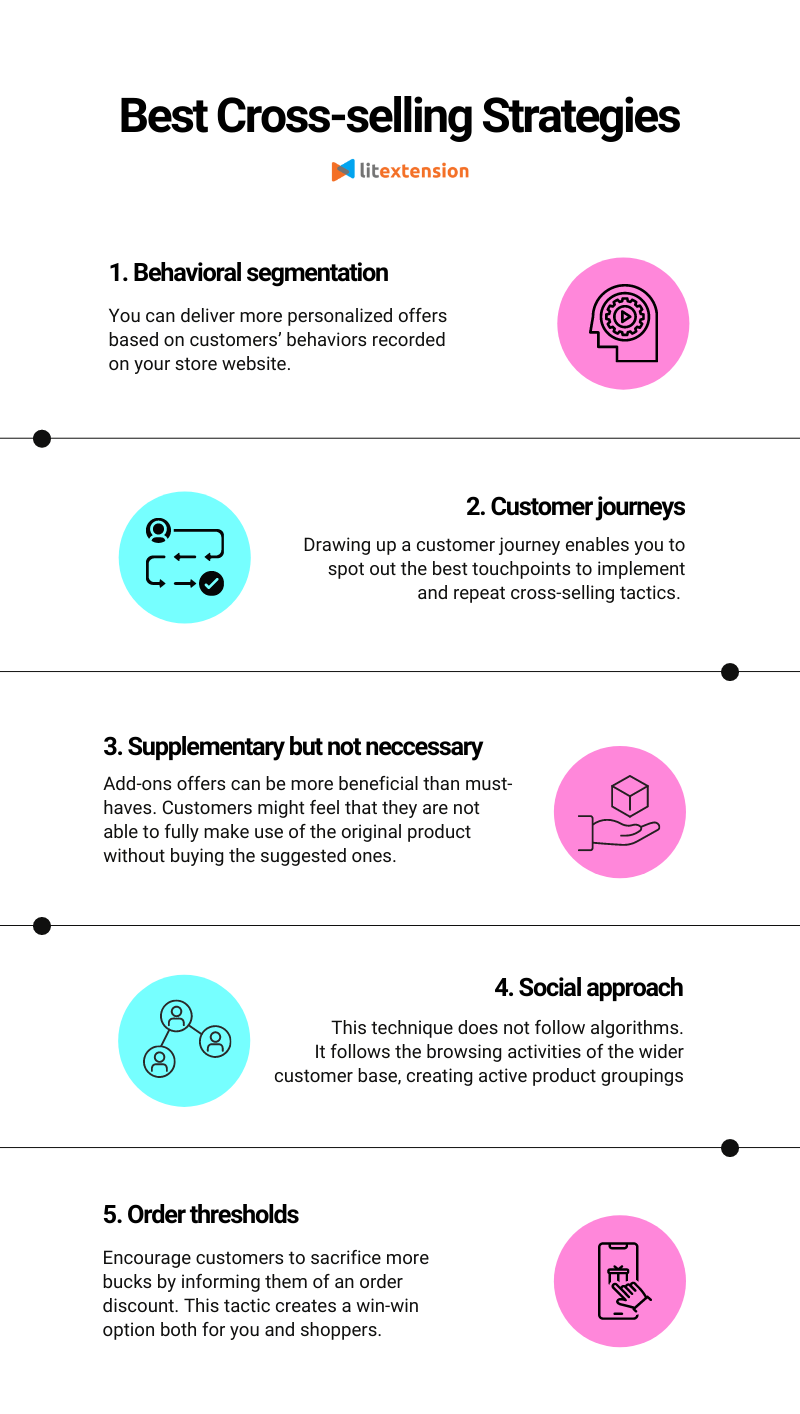 Upselling & Cross-selling can elevate your average order value, resulting in higher profits. Here are some Upsell and Cross-sell tips and tricks:
Create a sense of urgency by offering exciting discounts
Use persuasive copy to convince customers to purchase
Upsell higher quality or premium product versions
Cross-sell complementary products
Use related upsells & cross-sells to the original product
#12 Invest in multichannel selling
Multichannel selling is the most effective way to scale a business because it puts your company in front of as many customers as possible, connects with customers at various stages of the buyer journey, and lowers risk.
Selling through multiple sales channels provides merchants with more information about their customers, which they can use to increase sales. Tracking customer purchases also allows merchants to implement targeted marketing and raise brand awareness.
#13 Rescue abandoned carts
Shopping cart abandonment occurs when a potential customer adds items to their cart but does not complete their purchase. It could be caused by a lack of incentives, vague return policies, or high shipping costsThis is one of today's most difficult eCommerce challenges!
Abandoned carts have hit the eCommerce world hard today. According to a Baymard Institute study, the average cart abandonment rate across all industries is 69.99%.
For this Black Friday eCommerce strategy, we suggest email marketing email marketing as one of the best practices for preventing cart abandonment. Here are some pointers:
Make use of an excellent subject line
Create a creative abandoned cart email template
Remind your visitors about the item they abandoned

 

&

 

offer incentives
Include a stunning CTA
#14 Add reviews
Product reviews increase customer trust and loyalty. Having product reviews on your online store demonstrates what distinguishes your products from similar brands and can boost your credibility. Product reviews motivate previous customers to interact with your brand.
And do you know that? Product reviews also increase SEO visibility by publishing valuable content that Google displays for relevant searches.
#15 Personalize customer experience
Customers expect businesses to understand their unique interests and preferences and to treat them as individuals rather than customer segments. A personalized customer experience enables this by delivering personalized messaging, offers, and products to each individual.
We suggest some tactics for you to power up your site and attract customers:
Show recently viewed items
Target products based on customer's geographic location
Deliver personalized email marketing
Offer customized coupons/upsells at checkout
#16 Add countdown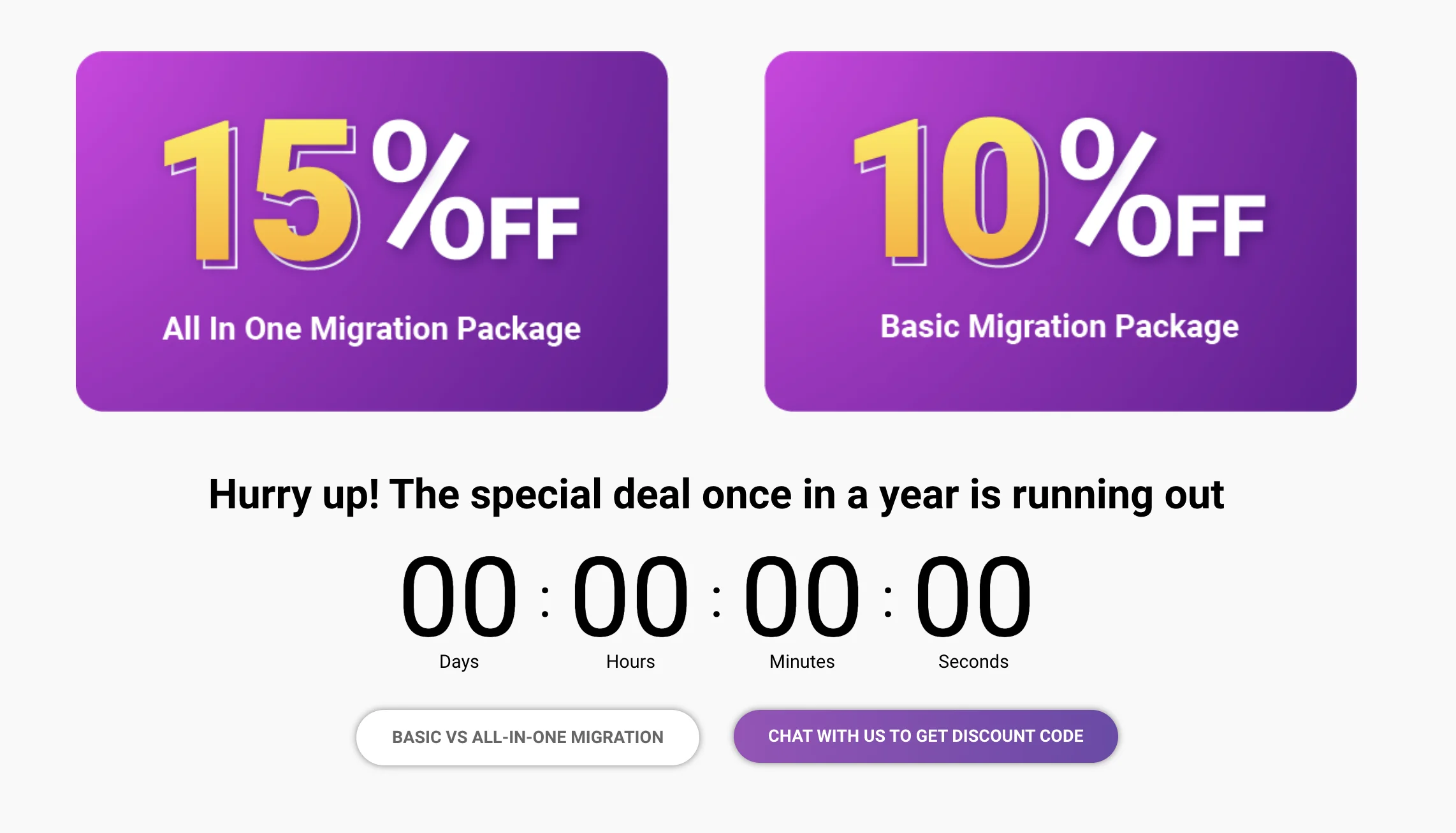 A countdown timer's main purpose is to create a sense of urgency and give the impression that "time is running out." Businesses use countdown timers to count down the days until a special discount or offer becomes available.
Don't forget to include a countdown on your website this Black Friday to create an urgency for buying and selling.
#17 Implement a transparent return policy
A transparent return policy lets your customers feel secured as they're assured what they are purchasing is guaranteed. If a retailer does not provide this guarantee, customers might become suspicious and avoid purchasing the product.
You can have a personalized return policy page including every terms and conditions customers need to follow. LitExtension, for example, provides a detailed Refund Policy page to ensure that everything is clear!

#18 Test your website!
At this stage, you have completed all of the eCommerce website preparations for Black Friday 2022. It's time for the last, but the most important step – test your website performance again and again to avoid missing and regretting ahead of Black Friday 2022.
Performing website testing ensures that your website is always fast, responsive, and stable.
Website testing removes obstacles that can affect your website's ranking, increases interactivity through optimal design. While designing your website to raise brand awareness, generate leads, and drive sales is critical, let's ensure that all website features function properly.
Fret not! You grab it all on how to prepare for Black Friday eCommerce 2022 sale seasons!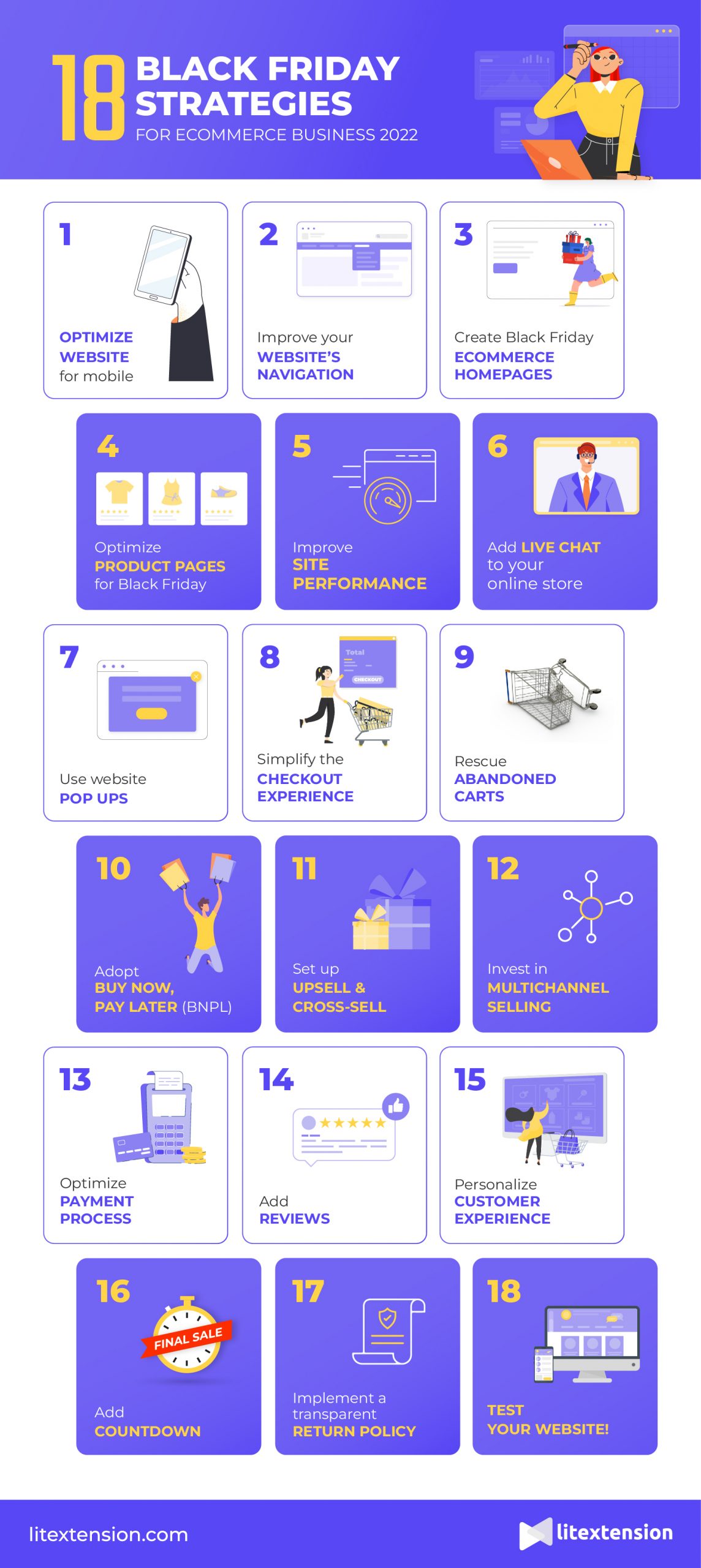 ---
Black Friday eCommerce Strategy – FAQs
---
Let's Wrap Things Up!
You now have all of the fundamental components for developing a successful Back Friday eCommerce strategy. We hope that you can utilize our Black Friday eCommerce strategies in this article to maximize sales during the holiday shopping season.
Let's carefully prepare your Black Friday store this season, invest in any additional marketing strategies, and optimize all of your product pages to welcome the great traffic coming to your store.
We've gone through our Black Friday eCommerce strategy and thank you for taking the time to read this, and best of luck with your online business! We hope your business thrives this Black Friday Cyber Monday 2022!
Join our Facebook Community to stay up to date on the latest eCommerce news and tips!